Teen Drivers Ed in Mission
The State of Texas, by law, requires any teenager between 15-17 years of age must take a drivers education course to obtain a driver's license.
Details & Cost
Our teen drivers ed classes promote Safety and responsible driving. The latest rules, laws and responsible driving etiquette are practiced and taught by our instructors. Our classes consist of the following: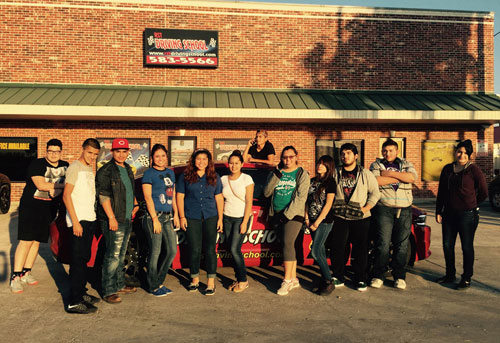 Teen Course Cost
| | | |
| --- | --- | --- |
| 7 hours of behind-the-wheel training with our trained instructors | $50 Down | Register By Location |
| 7 hours of sitting in the backseat and observing another student driving | $380 Payment Plan | Register By Location |
Driving hours usually starts after the first week of class in which the student has passed both the road rule laws and the road rule traffic signs test to obtain a learns permit from the D.P.S. The permit allows a student to drive
Rules Of Operation And Conduct
A student or prospective student may be dismissed or barred from the school for tardiness; drunkenness or obvious signs of drug use; rude, vulgar or disruptive behavior; smoking or using tobacco products; using a cell phone during class or in the car; or being otherwise inattentive (sleeping, texting, reading, etc.). Students terminated for violating rules of conduct may be readmitted at the discretion of the school director
Cancellation Policy
A full refund will be made to any student who cancels the enrollment contract before midnight of the third day, excluding Saturdays, Sundays, and legal holidays, after the enrollment contract is signed by the prospective student, unless the student has completed the course and accepted a certificate of completion during that period.
Documents & Links
TX_30_Hour_BTW_Log_(8-2013)_Finalized